Sant Karam Singh Academy has been established in the year 2002 by SANT BABA MANN SINGH JI MAHARAJ (HOTI MARDAN WALE) who was the Seventh successor disciple BHAI DAYA SINGH JI (one of the Panj Piare of Guru Gobind Singh Ji, who were given amrit by Guru Sahib).
Smart Class
The new age classroom where subjects are not just taught, but demonstrated with the help of animation and video clips, on display system and computers.
Transport
School had its transport services which provide pick and drop facility to school students. All the special care is given in maintenance of vehicles.
Library
The school has a well-stocked library with books on different subjects, journals, magazines and a wide range of newspapers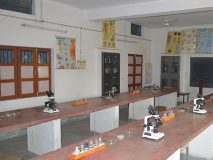 Labs
The school has well equipped Physics, Chemistry, Biology and Math's Labs For the students of all classes
About Sant Baba Mann Singh Ji
Sant Baba Mann Singh Ji acting as a great education visionary knows it very well that a child is and must be the most ambitious dream in the parent's life because he/she is their real future. The entire future of an individual, a family and above all of the whole country depends upon how the future citizens are growing and developing. Feeling the needs and requirement of this highly scientific and competitive world, Baba Ji has established ultra-modern educational institutions so that children from rural and backward areas can also come up with the changing world. He is planning areas of the Punjab and Haryana. He has provided 50% to 75% Tuition-Fee and bus-free concessions to the children whose either or both the parents are not alive. Fill fee concession is also provided to the students who are good at studies but are unable to afford the school fees.
He has established following educational institutions: